From GMM
Fears that the pace of second-tier GP2 cars could overtake formula one in 2014 are now easing.
After the opening test of the all-new V6 'power unit' era at Jerez recently, Jenson Button warned that GP2 will run F1 close on some circuits this year.
But in Bahrain on Thursday, Button's new rookie teammate Kevin Magnussen surprised the entire paddock with his best lap of just under 1m35 — a shade over 2.5 seconds shy of Nico Rosberg's V8-powered 2013 pole position.
Afterwards, Magnussen said: "I never believed that we would be five seconds slower than last year.
"It won't be too long until we have caught up with the old formula one," he told Germany's Auto Motor und Sport.
Kevin Magnussen, McLaren MP4-29-Mercedes. (Photo: WRi2)
Williams' Valtteri Bottas agreed: "By the end of the year we will be at 2013 pace — for sure we are not as slow as GP2!"
Many paddock figures are now wondering what the works Mercedes cars might be capable of if – like Magnussen's McLaren – they pushed hard with a fresh set of super-soft tires.
Mercedes has reportedly been running with the medium tire only, because the Brackley squad did not ask Pirelli to supply the softest in its range, which are never used in competition in Bahrain.
Team chairman Niki Lauda, however, is now curious.
"A test is there for testing, to see the whole picture. You have to know what you can do on each tire and I would like to know if we could do the Magnussen time on the super-soft tire," the Austrian legend said.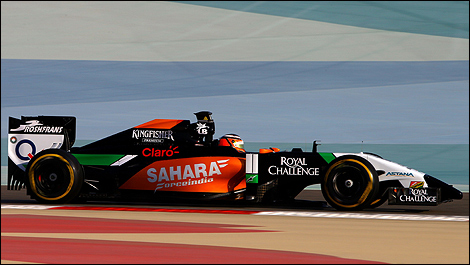 Nico Hulkenberg, Sahara Force India VJM07-Mercedes. (Photo: WRi2)
Sahara Force India's Nico Hulkenberg, second fastest on Thursday but 1.5 seconds slower than Magnussen, said he is not surprised the 'new' F1 is already catching up to the V8 era.
"No matter what rule changes there are, the engineers always manage to catch up the lost time," the German is quoted by Speed Week. "And we are only at the very beginning."