From GMM
Fernando Alonso has revealed he lost sensation in his left side and suffered "severe" headaches in the wake of the recent Abu Dhabi grand prix.
The Spaniard's participation in this weekend's US grand prix was in doubt, after he hurt his back in a violent ride over the kerbs in a duel with Jean-Eric Vergne.
But Alonso released more details of the effects in Austin, revealing that his symptoms were even worse than was previously thought.
Fernando Alonso, Ferrari F138 (Photo: WRi2)
At the wheel of his Ferrari, however, Alonso is still at full speed, as evidenced by his sixth place in Austin qualifying, many places ahead of his teammate Felipe Massa.
"The adrenaline works for me," he smiled to Germany's Auto Motor und Sport.
"But when I lie down at night and get up in the morning, my back still hurts."
Ferrari's telemetry showed Alonso suffered a 28G impact.
"At first I did not feel too much," he said. But he had to be checked by the FIA's doctors, because the high Gs had triggered the medical warning light.
"They found that I had some numbness in my left arm and left leg," said Alonso.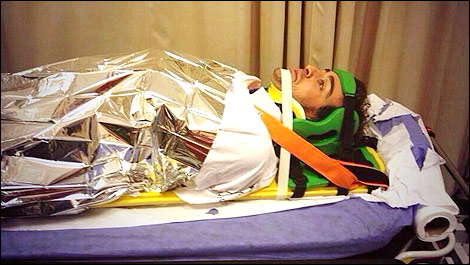 Fernando Alonso at the hospital (Photo: Twitter)
The results alarmed the doctors and Alonso was sent to hospital, which is where the famous picture of him strapped to a spinal board was taken by his manager Luis Garcia Abad.
The next week, Alonso said, was the worst.
"I had a constant, severe headache," he said. "Not until this week did it get any better. But in the car I am not affected."