Red Bull Racing's Sebastian Vettel and Mark Webber dominated Friday's second free practice session for the United States Grand Prix on Friday au Circuit of the Americas.
However, it was Ferrari's Fernando Alonso who emerged fastest in the shortened first free practice session.
First fog and then problems with the trackside medical helicopter were to blame, causing a 40-minute delay. The cars took to the track for just 15 minutes before the session was red flagged, this time as a replacement helicopter was found. Eventually, the session resumed for 45 minutes.
Fernando Alonso, Ferrari (Photo: René Fagnan)
Alonso set the fastest time in 1m38.343, beating the surprising Jenson Button in a McLaren by 0.028s.
The Spaniard two-time world champion was sporting visible strapping during the session, a consequence of his back injury he suffered in Abu Dhabi.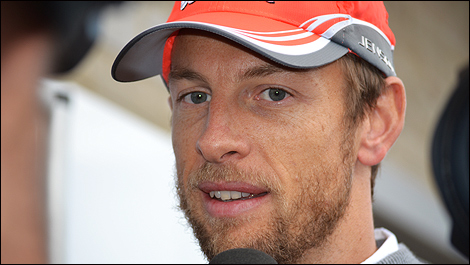 Jenson Button, McLaren (Photo: René Fagnan)
Valtteri Bottas of Williams was third fastest ahead of Esteban Gutierrez in a Sauber, with Mercedes AMG pair Nico Rosberg and Lewis Hamilton fifth and sixth.
Felipe Massa (Ferrari), Mark Webber (Red Bull), Nico Hulkenberg (Sauber) and Pastor Maldonado (Williams) completed the top 10.
Kimi Raikkonen's replacement au Lotus, Heikki Kovalainen ranked 13th.
Next year's Toro Rosso driver, Russian Daniil Kvyat was 17th, one spot in front of Sebastian Vettel of Red Bull Racing who ran with a heavy fuel load.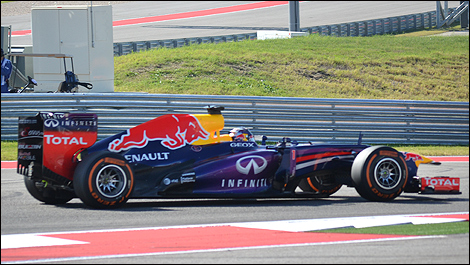 Sebastian Vettel, Red Bull Racing (Photo: René Fagnan)
American driver Alexander Rossi was 19th in the faster of the two Caterhams.
However, Button was hit with a three-place grid penalty for overtaking under red flag conditions during practice.
Red Bull Racing returns to the front
It was sunny and warm for FP2, and Sebastian Vettel set a time of 1m37.305 on medium Pirelli tires.
His teammate Mark Webber ranked second in front of the two Mercedes of Rosberg and Hamilton.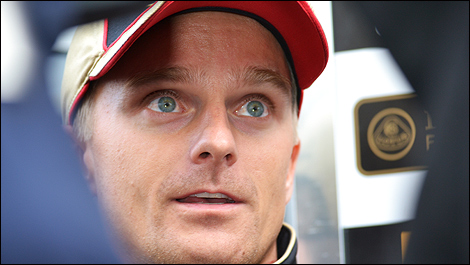 Heikki Kovalainen, Lotus (Photo: René Fagnan)
The surprise of the day came undoubtedly from F1 race returnee and Lotus new driver, Heikki Kovalainen who was 5th quickest. The Finn quickly adapted to the Lotus E21 despite not having tested it at all beforehand. He outpaced his teammate Romain Grosjean who classified 8th.
Sauber had its drivers, Esteban Gutierrez and Nico Hulkenberg in 6th and 7th places, respectively.
Button was 9th in the McLaren, one place in front of Alonso.
Mac Chilton spun his Marussia due to brake problems. The marshals took a very long time to recover the car and take it out of the circuit, causing a lengthy localised yellow.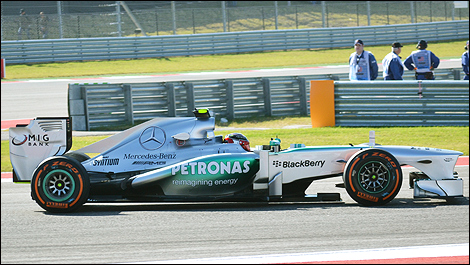 Lewis Hamilton, Mercedes AMG (Photo: René Fagnan)
US Grand Prix, Austin, Friday 1st practice session*:
1 – Fernando Alonso (Ferrari F138) – 1'38″343 – 16 laps
2 – Jenson Button (McLaren MP4-28-Mercedes) – 1'38″371 – 25
3 – Valtteri Bottas (Williams FW35-Renault) – 1'38″388 – 17
4 – Esteban Gutierrez (Sauber C32-Ferrari) – 1'38″532 – 18
5 – Nico Rosberg (Mercedes W04) – 1'38″657 – 21
6 – Lewis Hamilton (Mercedes W04) – 1'38″979 – 21
7 – Felipe Massa (Ferrari F138) – 1'39″005 – 17
8 – Mark Webber (Red Bull RB9-Renault) – 1'39″083 – 17
9 – Nico Hulkenberg (Sauber C32-Ferrari) – 1'39″158 – 17
10 – Pastor Maldonado (Williams FW35-Renault) – 1'39″200 – 15
11 – Romain Grosjean (Lotus E21-Renault) – 1'39″238 – 13
12 – Sergio Perez (McLaren MP4-28-Mercedes) – 1'39″256 – 17
13 – Heikki Kovalainen (Lotus E21-Renault) – 1'39″487 – 18
14 – Adrian Sutil (Force India VJM06-Mercedes) – 1'39″699 – 15
15 – Paul Di Resta (Force India VJM06-Mercedes) – 1'39″836 – 15
16 – Daniel Ricciardo (Toro Rosso STR8-Ferrari) – 1'39″863 – 19
17 – Daniil Kvyat (Toro Rosso STR8-Ferrari) – 1'40″065 – 20
18 – Sebastian Vettel (Red Bull RB9-Renault) – 1'40″662 – 21
19 – Alexander Rossi (Caterham CT03-Renault) – 1'41″399 – 21
20 – Max Chilton (Marussia MR02-Cosworth) – 1'41″605 – 19
21 – Charles Pic (Caterham CT03-Renault) – 1'42″054 – 19
22 – Rodolfo Gonzalez (Marussia MR02-Cosworth) – 1'43″716 – 17
US Grand Prix, Austin, Friday 2nd practice session*:
1 – Sebastian Vettel (Red Bull RB9-Renault) – 1'37″305 – 35 laps
2 – Mark Webber (Red Bull RB9-Renault) – 1'37″420 – 37
3 – Nico Rosberg (Mercedes W04) – 1'37″785 – 38
4 – Lewis Hamilton (Mercedes W04) – 1'37″958 – 38
5 – Heikki Kovalainen (Lotus E21-Renault) – 1'38″073 – 41
6 – Esteban Gutierrez (Sauber C32-Ferrari) – 1'38″229 – 40
7 – Nico Hulkenberg (Sauber C32-Ferrari) – 1'38″254 – 40
8 – Romain Grosjean (Lotus E21-Renault) – 1'38″255 – 33
9 – Jenson Button (McLaren MP4-28-Mercedes) – 1'38″269 – 34
10 – Fernando Alonso (Ferrari F138) – 1'38″461 – 33
11 – Adrian Sutil (Force India VJM06-Mercedes) – 1'38″719 – 31
12 – Felipe Massa (Ferrari F138) – 1'38″938 – 37
13 – Sergio Perez (McLaren MP4-28-Mercedes) – 1'38″941 – 31
14 – Daniel Ricciardo (Toro Rosso STR8-Ferrari) – 1'39″246 – 28
15 – Paul Di Resta (Force India VJM06-Mercedes) – 1'39″410 – 34
16 – Valtteri Bottas (Williams FW35-Renault) – 1'39″512 – 37
17 – Jean-Eric Vergne (Toro Rosso STR8-Ferrari) – 1'39″579 – 36
18 – Pastor Maldonado (Williams FW35-Renault) – 1'39″784 – 33
19 – Charles Pic (Caterham CT03-Renault) – 1'40″376 – 39
20 – Giedo Van der Garde (Caterham CT03-Renault) – 1'40″563 – 35
21 – Max Chilton (Marussia MR02-Cosworth) – 1'46″226 – 31
22 – Jules Bianchi (Marussia MR02-Cosworth) – 1'47″009 – 20
*Unofficial timing