The original Dodge Viper GTS is a car as compromised as it is awesome — owning and daily-driving one is an interesting experience. Your writer obtained a 2000 model unit from the used market early this summer, and has come to learn plenty about the crowd-gathering American supercar since then.
This isn't a car for everyone. In a nutshell, everything about the Viper GTS that makes the enthusiast side of my brain salivate is counterbalanced by something that raises a red flag in the car-reviewer side of my brain.
Here's a closer look at the good and bad of having a V10 powered snake in your garage.
Good: Displacement makes torque, and in the GTS the better part of 500 lb-ft of the stuff is sent to the rear wheels at every stab of the throttle, rocketing the Viper along at a positively frightening rate. Long gears mean endless, long-legged acceleration. Look for 0-100 km/h in four seconds, and a top speed in excess of 310 km/h.

Bad: The startling power. Good tires are key to staying alive in this car, as the light weight and immense torque can break rear-wheel traction with no warning at full throttle anywhere in first, second or even third gear. Keeps you awake.
Then, there's the fuel mileage. Obviously, nothing with an 8L engine is aiming to do your wallet any favours, but this thing is off the charts. Have any fun with it, and you'll put away 24 litres every 100 clicks in the city. It's not uncommon to see half a tank disappear by time your trip meter reaches 150 kilometres.
Photo: Justin Pritchard

Good: The looks. Because of the Viper's drool-inducing, instantly recognizable body, I've become fond of driving past a certain long building covered in windows that I can use to see how much of a boss I look like in my new Viper. Turns out, few cars make you look like a boss as much as a Dodge Viper GTS.
The appearance draws a crowd wherever it goes. At the gym, people snap photos of it on their cell phones through the glass. At Costco, people of all ages pause for a walk-around. In traffic, thumbs-up come from all directions, and fellow motorists crack their windows for a better listen of the thunderous rumble from under the hood.

Bad: The looks, hopelessly curvaceous as they are, translate into some big-time compromises. Visibility is poor and the long hood makes parking a teeth-gritting experience. The small doors, molded into the GTS's side profile and angled inwards to facilitate a heat-extracting body vent, are difficult to get in and out of. The rocker panels conceal catalytic converters and mufflers beneath and can get HOLY MAKINAW I JUST BURNED MY BLEEPIN LEG hot.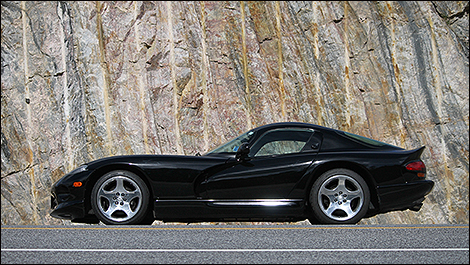 Photo: Justin Pritchard
Good: The crude, attention-grabbing sound effects. The Viper snorts at startup, idles like a stock car, emits a bass-laced rumble that penetrates nearby buildings and makes an assortment of delightfully guttural, throbbing, and pulsating sounds while driving. No question as to whether other motorists hear you accelerating here — this is an immensely loud car. It sounds like an offshore speedboat at full throttle too, which is sweet.
Bad: The crude, attention-grabbing sound effects. Sneaking up to or away from some destination is impossible. Even idling along without throttle, the Viper is audible inside of buildings several hundred feet away. My neighbours often give me dirty looks. Plus, after hours of highway driving, the constant flood of exhaust noise can get tiresome.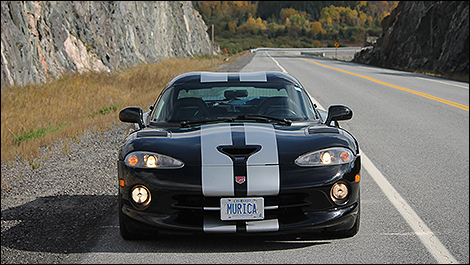 Photo: Justin Pritchard
Good: The modern-classic performance car cabin. A high centre console means you'll rest your arm at nearly chest height beside you, with one hand on the baseball-sized shift knob. Gauges are simple but serious — limited to fuel, volts, oil pressure, coolant, engine revs, and a 360 km/h speedometer. Everything is black, and since there are virtually no options or special equipment on board, the environment is pure and focused. You feel, very strongly, that you're the organic part of a very potent machine.
Bad: Pure and focused cabin, yes, but far from perfect. Pedals are two inches too far to the left. The seats slide back and forth, but don't recline. At-hand storage is limited mainly to a handful of flimsy mesh pockets strewn about. Build quality is on par with a late-'90s Dodge Caravan.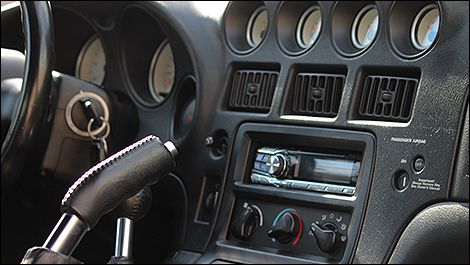 Photo: Justin Pritchard
Good: A simple and solid powertrain. The 8L V10 uses '60s technology, including pushrods, and is totally free of fancy-pants electronics that'll eventually make owners want to rip out their hair when it starts to get fussy. The Tremec T-56 transmission is known to be bulletproof if treated nicely, and the Dana rear axle is tough as nails, too. If maintenance is adhered to, trouble-free driveline operation can be expected.
Bad: Used Viper's from this generation have minor non-driveline issues elsewhere to be aware of. Common trouble spots include fussy door hinges, premature wear of weather strips, occasional leaks in heavy rain, and the hood-popping procedure, which is a pain in the rear and requires two people.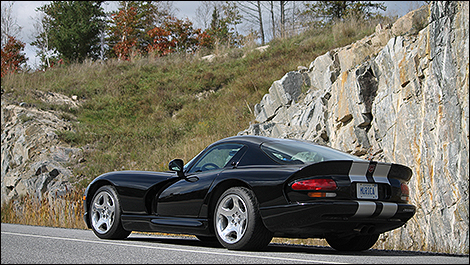 Photo: Justin Pritchard