For this year's SEMA Show in Las Vegas, Kia introduced five special editions of the Soul that pay tribute to the world of music with their unique accessories, flashy visual treatments, and powerful audio systems.
Amped Soul
Popular Mechanics has energized this Kia Soul with oversized JBL speakers, four 12" Infinity subwoofers, as well as LED ambient lighting. The car also sports a white body, black tinted windows, and 22" Forgiato custom three-piece wheels in gold finish.
Photo: Kia
Vans Warped Tour Soul
Here, Popular Mechanics wanted to embody the youthful and fun spirit of the Vans Warped Tour. Behold the custom paint job — inspired by the colours of the music and extreme sports event — with eye-catching air-brush artwork. The side windows have been replaced with custom-built fibreglass body panels housing eight 8" Infinity speakers. There's a 50" flat screen on the roof, a barbecue in the back, LED lights, and 20" wheels.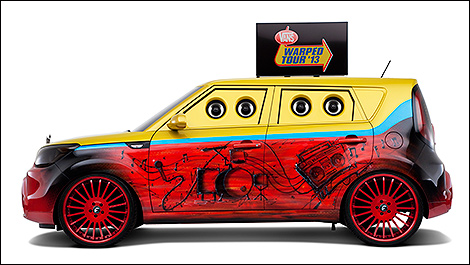 Photo: Kia
DJ Booth Soul
Designed by RIDES magazine, the Soul DJ Booth has no roof so the DJ can rise up and stand on a custom diamond-plated stage (which replaced the rear seats) and start spinning on the pro-grade Pioneer CDJs and mixer. The interior features black leather, graphite suede, and turquoise stitching, along with a Maschine Mikro production studio moulded into the passenger dash. A Pioneer sound system with five amplifiers, three component speakers, two 10" and two 12" Champion Series subwoofers, and a sound bar housing four coaxial speakers amps complete the package.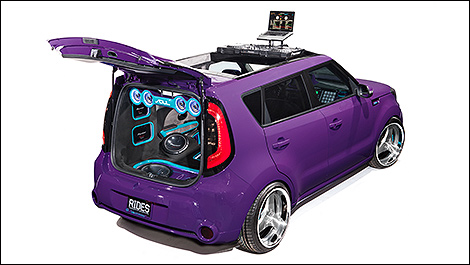 Photo: Kia
The Voice Soul
As an homage to the popular reality TV competition on NBC, RIDES magazine customized the exterior of this Soul with a bright red airbrushed The Voice logo on the side, incorporating vinyl on the window portion, as well as the inspiring words "I Want You" illuminated in the lower grille. Inside, an iPad Mini connected to a 40" LED TV allows aspiring artists to use the preloaded The Voice app to sing their heart out.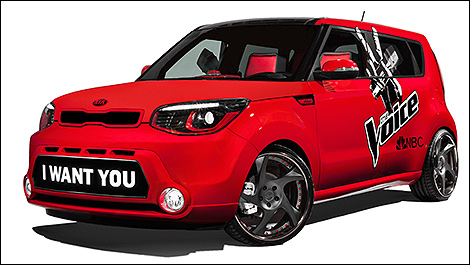 Photo: Kia
Music Memorabilia Soul
RIDES magazine transformed the Soul into a music museum on wheels, with memorabilia spanning rock, hip-hop and EDM (Electronic Dance Music) history. You'll find a signed Slash guitar, a G-Unit sneaker signed by 50 Cent, a Jimi Hendrix gold album, and a signed John Legend microphone, all of which are displayed in hand-built Plexiglas enclosures in the trunk, rear windows, and rear hatch insert.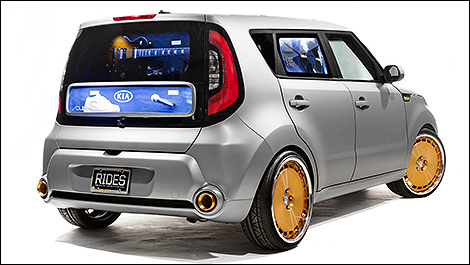 Photo: Kia