From GMM
Mark Webber, who is preparing to leave F1 after more than a decade-long career, has warned the sport to insist upon "quality".
Hitting out at pay-drivers locking more talented drivers off the grid, Australian Webber also criticised unpopular yet lucrative races like this weekend's Korean grand prix.
Mark Webber, Red Bull RB9. (Photo: WRi2)
Telling British broadcaster Sky the pay-driver situation is "not right", Webber said: "We've got to be careful we don't have a bit of a vacuum not having those top boys come through."
Another problem, he said, is races like Korea.
"I think keeping the quality is important, keeping the quality events," said Webber, as F1 congregates for the fourth but perhaps last time in Mokpo, an odd and eerie place for a grand prix, where journalists and mechanics stay in 'love motels'.
"Korea, there's no one there," Webber complained. "We need to have quality events, quality drivers, quality teams and keep that going."
Korea has been given only a provisional date on the bustling 22-race 2014 calendar, with promoter Won-Hwa Park admitting he is trying to negotiate a better deal with Bernie Ecclestone.
Asked what chance there is of a race next year, he admitted: "I would say 50-50, but we are very much firm in continuously holding this event."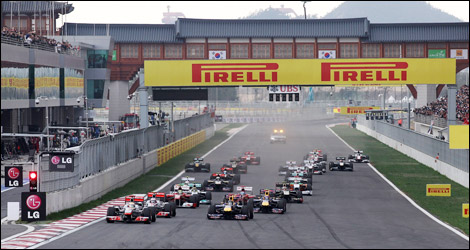 Start of the 2011 Korean Grand Prix. (Photo: Pirelli)