From Grand-Am.com
Max Angelelli and Jordan Taylor ended the 2013 Rolex Sports Car Series season with an exclamation point, winning Saturday's GRAND-AM Championship Weekend Presented by BMW at Lime Rock Park by 13 points to clinch the Daytona Prototype (DP) championship with their third consecutive victory.
At the Kansas Speedway race in August, Taylor held off Scott Pruett throughout the final half-hour to win the race in the No. 10 Velocity Worldwide Corvette DP to take the lead in the standings. In the most recent race at Mazda Raceway Laguna Seca, Taylor led the final 29 laps to extend that lead.
Saturday, the 22-year-old Floridian led the final 69 laps, winning by five seconds over Gustavo Yacaman with Pruett taking third.
DP winners (photo: Grand-Am.com)
Pruett and Memo Rojas of Chip Ganassi Racing with Felix Sebates' No. 01 Telcel/TELMEX BMW/Riley finished the season 14 points ahead of GAINSCO/Bob Stallings Racing's Jon Fogarty and Alex Gurney, drivers of the No. 99 GAINSCO Auto Insurance Corvette DP to round out the top three in points.
Chip Ganassi Racing with Felix Sabates won its seventh DP team championship in 10 years and fourth in a row, finishing six points ahead of Wayne Taylor Racing.
In GT, Alessandro Balzan and Scuderia Corsa did exactly what they needed to do to win a championship of their own, taking advantage of a second-lap crash by Magnus Racing's John Potter and Andy Lally.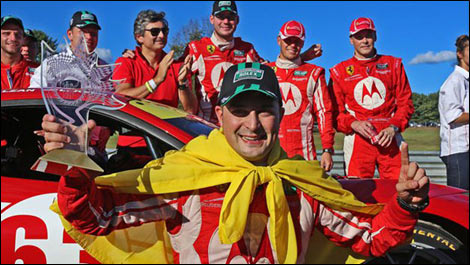 GT champions (photo: Grand-Am.com)
Eric Curran and substitute co-driver Lawson Aschenbach were GT winners in the No. 31 Whelen Engineering/Team Fox Corvette, beating Balzan – and co-driver Leh Keen – by four seconds in Scuderia Corsa's No. 63 Ferrari 458.
Aschenbach took over for usual co-driver Boris Said, who missed the race due to travel difficulties. It was the second victory for Marsh Racing of Old Lyme, Conn., which will move to the Prototype ranks in 2014 in a Corvette DP.
After fixing their car, Magnus Racing and Lally and Potter went back out to finish 13th in class (106 laps down), and claim second in the team and driver points, respectively.
John Edwards and co-driver Robin Liddell entered the event third in points in the No. 57 Stevenson Auto Group Camaro GT.R and had a fourth-place run to finish third in both the Rolex Series GT team and driver standings.
Jim Norman won the first GX championship, taking his ninth consecutive second-place finish in the No. 38 BGB Motorsports Calcium Pro Porsche Cayman co-driven by Spencer Pumpelly, behind Tom Long and Sylvain Tremblay, who took their fourth GX victory in the No. 70 Mazdaspeed/ SpeedSource Mazda 6. SpeedSource.
Race results – Grand-Am (Lime Rock)
1 – Angelelli-Taylor (Corvette DP/Dallara) – Taylor – 173 laps
2 – Wilson-Yacaman (Riley-Ford) – Shank – 173
3 – Pruett-Rojas (Riley-BMW) – Ganassi – 173
4 – Cameron-Nonnamaker (Riley-BMW) – Sahlen – 173
5 – Di Guida-Bourdais (Corvette DP/Coyote) – 8Star – 173
6 – Negri-Pew (Riley-Ford) – Shank – 173
7 – Dalziel-Popow (Riley-Ford) – Starworks – 173
8 – Frisselle-Frisselle (Corvette DP/Coyote) – ActionEx – 173
9 – Taylor-Westbrook (Corvette DP) – SpiritOfDaytona – 171
10 – Potolicchio-Valiante-Sarrazin (Corvette DP/Coyote) – 8Star – 170
11 – Nonnamaker-Nonnamaker (Riley-BMW) – Sahlen – 167
12 – Fogarty-Gurney (Corvette DP/Riley) – Stallings – 163
13 – Curran-Aschenbach-Said (Corvette Z06) – Marsh – 162
14 – Balzan-Keen (Ferrari GTS3 458) – Corsa – 162
15 – Van Overbeek-Westphal (Ferrari GTS3 458) – Corsa – 162
16 – Edwards-Liddell (Chevy Camaro) – Stevenson – 161
17 – KimberSmith-Marsal (BMW M3) – Turner – 161
18 – Hedlund-Kaffer (Riley-BMW) – Starworks – 160
19 – Garcia-Magnussen (Chevy Camaro) – Stevenson – 160
20 – Tagliani-Segal (Ferrari GTS3 458) – AIM – 159
21 – Greenberg-Lietz (Porsche 997) – Muehlner – 156
22 – Long-Tremblay (Mazda 6) – Speedsource – 154
23 – Pumpelly-Norman (Porsche Cayman) – BGB – 152
24 – Lindsey-Long (Porsche 997) – Park Place – 151
25 – Miller-Nunez (Mazda 6) – Speedsource – 133
26 – Faulkner-Stanaway (Aston Martin Vantage) – TRG – 106
27 – Carter-Lux (Audi R8) – Fall-Line – 105
28 – Lally-Potter (Porsche 997) – Magnus – 83
29 – Barbosa-Fittipaldi (Corvette DP/Coyote) – ActionEx – 67
30 – Auberlen-Della Lana (BMW M3) – Turner – 50
31 – Dollahite-Dollahite (Lotus Evora) – SDR – 2
32 – Doyle-Marcelli (Porsche 997) – Muehlner – 1