From GMM
Former F1 team owner and boss Gian Carlo Minardi has raised doubts about the legitimacy of Sebastian Vettel's dominance in Singapore last weekend.
The 66-year-old, who sold his team before the 2001 season, was trackside at the Marina Bay circuit where Vettel commandingly won.
Vettel in Singapore (Photo: WRi2)
Minardi, whose Faenza based team was subsequently sold to Red Bull and became Toro Rosso, admits he has been troubled by Vettel's often multiple-second advantage over his rivals under the Singapore floodlights.
"It's not my intention to devalue Sebastian Vettel, who always manages his Red Bull in the best way," he told his website.
"I just want to tell what I personally saw and heard during the three day event," Minardi explained.
He said he is concerned that, while only just ahead of the likes of Lotus' Romain Grosjean and Mercedes' Nico Rosberg in the pre-race sessions, the reason for Vettel's subsequent dominance at key moments on Sunday is "not clear".
Referring to the stretch leading into the first chicane, Minardi said Vettel was able to negotiate it "without making any corrections, unlike all his rivals and also his teammate" Mark Webber.
"His laptime was also remarkable in T3, which is the track's sector with the highest concentration of corners," he added.
"On the same stretch, Sebastian was able to speed up 50 metres before any other driver, Webber included."
But the handling of the Red Bull was not the only thing troubling Minardi.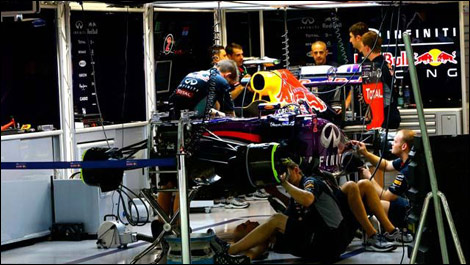 In the Red Bull garage (Photo: WRi2)
"The thing that surprised me the most was the engine's sound," he said.
"It sounded like none of the other Renault engines on track, including Mark's.  It sounded similar to the engines in past seasons when traction control went into action.
"Furthermore, that sound was only heard when Vettel chalked up his excellent performances," added Minardi.  "For example, after the safety car went in.  In those moments it was more powerful (sounding) than any other engines — Renault and the other brands.
"I would like to have some answers," he continued.  "I don't want to blame anyone, I just want to get to the bottom of it."