From press release
A premier for Marco Wittmann: in his debut season in the DTM, the 23-year old BMW driver claimed pole position for the first time in his career.
In the final qualifying heat, he set the fastest lap time at Circuit Park Zandvoort in 1:30.894 minutes. Fellow BMW driver Augusto Farfus, who, next to points' leader Mike Rockenfeller (Audi) is the only driver still in with a chance to win the 2013 DTM champion's title, ended up in second place with a lap time of 1:30.979 minutes.
Marco Wittman, BMW M3 DTM (Photo: DTM.com)
Rockenfeller was around three tenths of a second slower than Farfus and will be starting third into the ninth DTM round of the year. Gary Paffett was the best-placed Mercedes-Benz driver in twelfth.
29-year old Rockenfeller, is the leader in the drivers' standings of the most popular international touring car series with 124 points and a margin of 33 points from Farfus (91 points). His rival, 30-year old Brazilian Farfus, was happy with second place.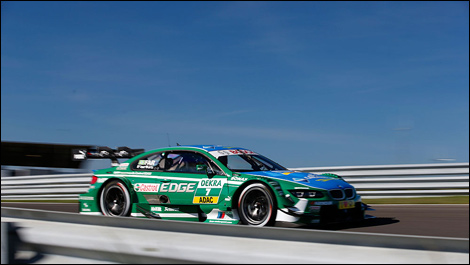 Augusto Farfus, BMW M3 DTM (Photo: DTM.com)
In order to keep his chances of winning the title alive and to postpone the decision to the season finale at Hockenheim (October 18 till 20), the BMW driver has to score at least eight points more than Rockenfeller at Zandvoort. For the Audi driver, however, victory or second place would be enough to secure the title early.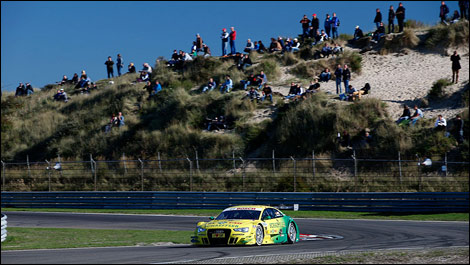 Mike Rockenfeller, Audi RS 5 (Photo: DTM.com)
Timo Scheider (Audi) was fourth ahead of Joey Hand (BMW) and Filipe Albuquerque (Audi).
That was a disappointing qualifying session for the Canadian drivers, with Bruno Spengler (BMW) only 16th, while Robert Wickens could not do better than 21st on the grid for tomorrow's race.
Qualifying results – DTM (Zandvoort)
1.Marco Wittmann (BMW M3) – MTEK – 1'30″894 – Show down
2.Augusto Farfus (BMW M3) – RBM – 1'30″979 – Show dowm
3.Mike Rockenfeller (Audi RS5) – Phoenix – 1'31″325
4.Timo Scheider (Audi RS5) – Abt – 1'32″524
5.Joey Hand (BMW M3) – RBM – 1'31″439 – Q3
6.Felipe Albuquerque (Audi RS5) – Rosberg – 1'31″443 – Q3
7.Edoardo Mortara (Audi RS5) – Rosberg – 1'31″460 – Q3
8.Timo Glock (BMW M3) – MTEK – 1'31″614 – Q3
9.Adrien Tambay (Audi RS5) – Abt – 1'31″621 – Q3
10.Miguel Molina (Audi RS5) – Phoenix – 1'32″106 – Q3
11.Mattias Ekstrom (Audi RS5) – Abt – 1'31″382 – Q2
12.Gary Paffett (Mercedes AMG-C Coupè) – HWA – 1'31″414 – Q2
13.Dirk Werner (BMW M3) – Schnitzer – 1'31″442 – Q2
14.Pascal Wehrlein (Mercedes AMG-C Coupè) – Mucke – 1'31″445 – Q2
15.Andy Priaulx – (BMW M3) – RMG – 1'31″539 – Q2
16.Christian Vietoris (Mercedes AMG-C Coupè) – HWA – 1'32″055 – Q1
17.Jamie Green (Audi RS5) – Abt – 1'32″062 – Q1
18.Bruno Spengler (BMW M3) – Schnitzer – 1'31″546 – Q2
19.Martin Tomczyk (BMW M3) – RMG – 1'32″088 – Q1
20.Daniel Juncadella (Mercedes AMG-C Coupè) – Mucke – 1'32″145 – Q1
21.Robert Wickens (Mercedes AMG-C Coupè) – HWA – 1'32″241 – Q1
22.Roberto Merhi (Mercedes AMG-C Coupè) – HWA – 1'32″357 – Q1