From GMM
Just because Fernando Alonso has played down the McLaren rumours, it doesn't mean Sergio Perez's place at the British team is now safe.
"Sergio has a tremendous benchmark in Jenson, who is consistent, a great quality driver, a great team player and who brings a tremendous amount of benefits to our team," boss Martin Whitmarsh told reporters.
"For a young charger like Sergio, he knows and I know that he has to come in and beat him.  He hasn't done that consistently enough so far this year.
"He is going to give it a good go this weekend I expect," he added in Singapore.
Two-time world champion and former McLaren driver Fernando Alonso was high on Whitmarsh's list of candidates to potentially replace the Mexican, until recently.
"McLaren?  I love Ferrari, until the end," Spaniard Alonso was quoted late on Friday by Italy's La Gazzetta dello Sport.
Kevin Magnussen (Photo: McLaren)
But McLaren also has two young chargers in its pocket — Formula Renault 3.5 title challengers Kevin Magnussen and Stoffel Vandoorne.
"They're in the frame," said Whitmarsh, who admitted 2014 might be slightly too soon for the youngsters to leap straight into F1 with McLaren.
"There's no doubt they will come into F1, and openly, we've spoken to a number of formula one teams about them."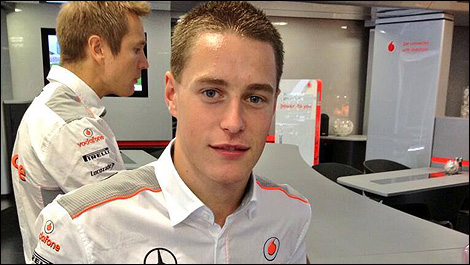 Stoffel Vandoorne (Photo: McLaren)
Whichever way the enter F1, it's not going to be on Jenson Button's seat, which seems very safe indeed.
The 2009 world champion told reporters his 2014 deal is completely "done".
Asked if that's right, team boss Martin Whitmarsh told the British broadcaster Sky: "That's accurate."